Pay-As-You-Go Pricing
FAQ
Pay only for what you need
Vocalware audio streams* are priced to scale with your app.
1K streams

to get started

FREE!

40K streams
$2.49/K
$99.50
100K streams
$1.99/K
$199.00
500K streams
$1.49/K
$745.00
1M streams
$1.29/K
$1,290.00
4M streams
$1.10/K
$4,400.00
No contracts, subscriptions or plans.
No commitments.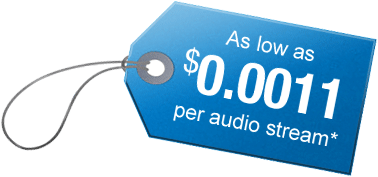 So, what's the catch?
There are no contracts, no packages, no plans, no hidden fees, and there is no catch.
We want you to create speech-enabled apps without worrying about high cost or overages.
*

How we measure usage

Vocalware measures usage using audio streams -not words, or characters.


A stream is one playback instance of audio, up to 60 seconds
in length.

So, 1 stream = up to 60 seconds of playback.

How pricing works
It's Simple. To get started with your 15 day free trial you will receive 1,000 FREE streams to be able to integrate audio into your applications. Cancel any time. You will be charged for 40k streams once the trial is over. Your streams never expire.
Optional: Choose your Refill settings based on your needs. Streams
can be set to automatically refill or you may refill them on your own.
The higher your usage, the lower your cost per stream.
Edit your settings anytime based on your needs.